Community School at Reynolds Middle School
A Project of the Rotary Club of Lancaster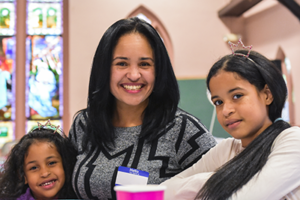 IU13 Community Education is proud to be the leading agency working to create a community center housed at Reynolds Middle School as part of the School District of Lancaster (SDOL). Our mission is to engage community members in opportunities for their future. We provide education, integration, wellness, and work leading to self-sufficiency. The Community School (CS) serves students and families at Reynolds Middle School (RMS).
---
---
The Community School (CS):
Cate Gorham, MSW
Community School Director
I am passionate about uniting community partners, families, and educators to help all students succeed.  – Cate
Full-service community schools act as a hub in the community by connecting families with local resources. To promote student success and learning in the classroom, we serve the whole child and the whole family by meeting their physical, mental, emotional and social needs. When organizations and communities come together we stand strong.
The school cannot do it alone, the family cannot do it alone, the community cannot do it alone. By coming together, we have the greatest impact. Listed below are some of our services:
Lancaster Health Center
RMS is home to one of Lancaster Health Center's offices. Lancaster Health Center (LHC) provides primary and preventive healthcare for the entire family through a relationship that welcomes, strengthens, and helps our whole community soar. They offer a discounted rate or nominal fee for medical services based on household income and size. Please call 717-299-6371 or visit the RMS LHC website to schedule an appointment at their Reynolds Middle School office.
Primary and Preventative Health Care for the entire family
Chronic Disease Management
Pediatric Care
Women's Health Care
Family Planning
Refugee Health Care
Power Packs Program
The Power Packs Program provides food and recipes to families every Thursday during the school year. Please contact us at RCCSR@iu13.org for more information.
Uniform Bank
The community school offers a uniform bank that is stocked with uniform shirts, pants, and sweatshirts.
Other Services:
The International Dinner
The International Dinner is a family engagement event hosted at RMS to celebrate the diversity of our students and families. The night is filled with enjoying cuisines from different cultures, a fashion show, music, and other fun activities.
Interested in Volunteering?
We have a wide array of opportunities to get involved with our center either to increase staff capacity or to provide direct services! While some opportunities involve working specifically with Lancaster's refugee and immigrant population, others involve supporting Reynolds Middles School (RMS) students in general. For volunteer opportunities contact the Refugee Center and Community School at Reynolds at RCCSR@iu13.org.
The Secret Angel Project
Each year, the Refugee Center and Community School seeks individuals to fill gift bags for RMS students who would not otherwise receive a gift during the holidays. Last year, RCCSR partnered with the Rotary Club of Lancaster, Millersville University and Islamic Community Center of Lancaster (ICCL) to provide 141 gift bags to students.
How Your Donations Impact the Community
Your donation will help to ensure that we are able to meet the basic needs of students and families at Reynolds Middle School. The school is attended by a dynamic and diverse group of students who have the same needs and dreams as do most of our young people around our country. The difficulty we face at Reynolds is that those needs are magnified and multiplied by the poverty that many of our students have to endure. With 90% of our students living below the poverty line, our students come to school every day and receive more than an education. They receive shelter for the day, food, clothes, social and emotional support, and basic need items.
Your donations are collected, tracked and disseminated through the Lancaster-Lebanon Education Foundation, which serves as the charitable arm of the IU13.
Meet Mi Mi, 
a 7th grade student from Thailand:
Meet Renata,
an 8th grade student from Uganda: