GED Testing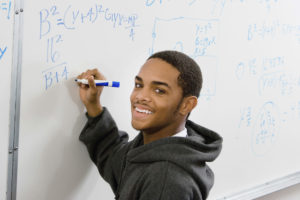 Congratulations on taking this important step towards pursuing your High School Equivalency/Commonwealth Secondary School Diploma (CSSD). The CSSD may be achieved by passing the GED test or the HiSET exam, or by completing the 30 College Credit option. To better understand the CSSD, please visit the PA Department of Education website here.
Following are answers to frequently asked questions about the GED test.
How do I register for the GED test?
In order to take the test, you must register online using the MyGED™ portal at http://www.ged.com. You will be prompted to create an account, and then you can schedule a test. There is also information about studying, scoring, what to expect on testing day, and more.
How do I obtain a transcript if I earned my GED in the past?
In an effort to enhance services for individuals who receive the Commonwealth Secondary School Diploma, the Pennsylvania Department of Education is transferring all of its diploma and transcript processing services to DiplomaSender.
Effective October, 1, 2016, all Pennsylvania high school equivalency diplomas and transcripts for the GED test, HiSET exam, as well as those awarded through the 30 College Credit Option, will be handled by DiplomaSender.
Am I eligible to earn a GED?
The GED is for adults who have not earned a high school diploma. Individuals who are currently enrolled in high school or have a high school diploma are not eligible to take the GED test. The minimum age for testing is 18 years (unless certain requirements are met).
Can I take the GED test if I'm under 18?
In Pennsylvania, you can be 16 or 17 and take the GED® test if you meet the following exception:
16 or 17 years of age must provide a written request for GED® testing from an employer, college admissions office, military recruiting officer, or director of a state institution.
16 or 17 years of age must provide a written statement from your school superintendent or principal saying that you are withdrawn from school.
What is the GED test like?
The computer-based test is made up of a series of four tests:
Reasoning through Language Arts (150 minutes, including a 10-minute break)
Mathematical Reasoning (115 minutes) – The math test has 5 computation problems at the beginning, and test-takers can't use a calculator for these problems. A calculator is permitted for the rest of the math test (which is embedded into the computer TI-30XS). Test-takers are not allowed to go back to the 1st five problems once they begin the 2nd part of the math test with the calculator.
Science (90 minutes)
Social Studies (90 minutes)
The new test forms do not specify numbers of test questions – they are based on raw score points instead, since all items are no longer worth just one point each. The maximum final raw score point totals are as follows:
Reasoning Through Language Arts – 65 raw score points
Mathematical Reasoning – 49 raw score points
Science – 40 raw score points
Social Studies – 44 raw score points
Total raw points….198
Scores from the 2014 GED® test range from 100 to 200, with 145 scaled score points as the Passing Standard for high school equivalency and 165 scaled score points as the GED® "College Ready" score, reflective of readiness for college-level courses.
Can I retake the test if I don't pass?
Students can retake a test for $10, and they don't need to wait unless they have taken a test 3 times. They must wait 60 days to retake a test for the 4th time.
Can I take the GED test in another language?
The GED test is offered in three languages – English, Spanish, and French.
What classes are available to help me prepare for the GED test?
General Education Development (GED) Preparation is available to adults in Lancaster and Lebanon counties who are at least 18 years of age and not currently enrolled in a public school. Morning, evening, and online classes are available to adults who lack a high school diploma or who simply want to improve their basic skills in reading and/or math. Classes are available through IU13 and the Literacy Council of Lancaster-Lebanon.
Do I have to take a class in order to take the GED test?
No, however, our classes will help you prepare you for the test.
Are there websites or resources to help me prepare?
Test-takers are encouraged to find the Test Tips at MyGED.com. They include test tips for the testing day, what to bring to the testing center, a GED test tutorial, a calculator tutorial, and information about the noteboard.
Do I have to pay to take a practice test? Also, will practice tests be available only online?
GED Ready™: The Official Practice Test is available from publishing partners for a fee of $6.99. The test is primarily available in an online version, although a non-Internet computer-based version is available for use in corrections settings where test-takers are not allowed Internet access.
Will I still be able to take one test at a time on different dates?
Yes. Test-takers can test on what they want, when they want, and where they want.
What is the price breakdown per test?
For additional information about GED testing, please visit https://ged.com/about_test/price_and_state_rules/
Where can I find out more about GED testing?
For more information, please call 717-606-1708 or submit your question here.