Working Together to Strengthen Inclusion
Reflecting on the Current Civil Unrest –
A Message from the Executive Director
Dear Community,
Earlier this month, I shared the following message with our IU13 staff. It was well received and generated input (and ideas) from staff. I have since been asked to share it with the community-at-large, with hopes that we can all contribute solutions and ultimately strengthen efforts to be inclusive. Additionally, please see the enclosed list of resources that may be helpful when speaking to your children about the current civil unrest.
Across the United States, we are witnessing anguish, sorrow, and frustration over the issues of injustice and racism. Sadly, George Floyd is only the most recent victim.
While I don't have all the right words, nor do I have the solution, these words from the Declaration of Independence do come to mind.
We hold these truths to be self-evident – that all men (and women) are created equal and that they are endowed by their Creator with certain inalienable rights, that among these are Life, Liberty, and the pursuit of Happiness.
The unacceptable actions we are seeing in the news today stand in opposition to the intent of our nation's founders and violate the rights of some of our citizens, seemingly based on their race or other "outward" appearances. As a nation of diverse people, despite our outward differences, we are each more similar to one another than not. We call upon the leaders of our nation to bring calm to the current crisis and restore our nation to one where all people can live without fear of discrimination, injustice, or the senseless loss of life.
The unlawful mistreatment of any of us, especially by those in authority over us, creates harm for all of us. We cannot be a nation of laws and rights that exist only for some. Our nation must return to one that seeks justice, loves mercy, and walks humbly together.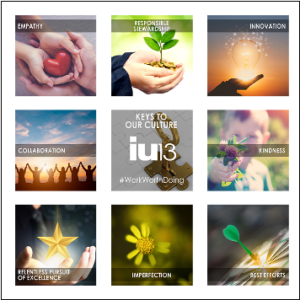 During these difficult times, I find myself reflecting on the Keys to the Culture adopted by IU13. We are a diverse organization, and we need to extend empathy, kindness, and gratitude to all; to recognize the value of all humanity; and to intentionally, and purposefully, choose to focus on our similarities as people. We must do this together and in support of one another. You are welcome to respond to this message with questions and recommendations for ways in which IU13 can contribute to local and regional solutions, and ultimately strengthen our efforts to be inclusive.
In Justice, Mercy, and Humility,
Dr. Brian Barnhart
Executive Director, Lancaster-Lebanon IU13