PAsmart Professional Development at IU13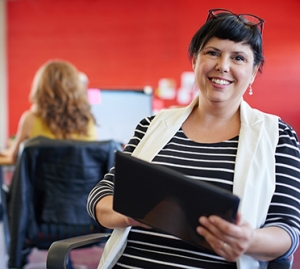 Professional development opportunities will be facilitated and/or hosted by IU13 to support districts who aim to increase the number of educators prepared to teach CS/STEM courses, integrate CS/STEM principals into their courses, and expand access and opportunities to high-quality CS/STEM programming for all students.
IU13 will offer districts a series of professional development and hands-on workshop sessions in order to:
Examine, use, and demonstrate knowledge of the Computer Science Teachers Association Standards (endorsed by Pennsylvania, January 2018), the K-12 CS Framework and the Computational Thinking Toolkit, developed through collaborative efforts by CSTA and ISTE.
Understand the need for computer science & computational thinking as a core literacy
Develop a vision and comprehensive plan for computer science using the SCRIPT framework
Explore and begin to use resources and hardware to design and implement CS/STEM learning opportunities for ALL students.
NO prior experience with computer science is required; the professional development and hands-on workshops offered by IU13 are meant for educators who are or soon will be teaching computer science.
The K-12 CS/STEM Professional Development offered by IU13 to support districts who receive PAsmart Targeted Grants will include four required days as well as a series of district-selected workshops on computer science curricular resources and hardware solutions aligned to the CSTA Standards and K-12 CS Framework including.  Although participants will take a deep dive into the CSTA standards on Day 1 – all professional development activities will incorporate elements of CSTA standards and provide participants opportunities to explore concepts within each strand: Algorithms and Programming, Computing Systems, Data and Analysis, Impacts of Computing, & Networks and the Internet as well as time to explore opportunities for intentional integration of CS into other content areas.
Session Overview
Day 1: Unpacking the CSTA Standards (endorsed by PA 2018) & K-12 CS Framework *required
Day 2: CSforALL SCRIPT Workshop *required
Day 3:  Computational Thinking – An Essential Skill *required
Day 4: Engineering Design + Computer Science: Hands-on Design Challenges & Project Based Learning *required
It is recommended that districts send participating teachers to at least one curricular resource-focused workshop and two hardware-focused workshops; however, each district will have the opportunity to customize their professional learning pathway.
Getting Started with Block Based Coding (PreK-2)
Code.org Fundamentals (K-5)
CS First with Google (4-8)
CMU CS Academy: CSO & CS1 (7-12) *2 day workshop
Hardware-focused workshop offerings will include:
*workshop fees vary; cost of each includes the associated device
Code & Go Mouse OR BeeBot (PreK-2)
Ozobots Evo (K-6)
Dash | Wonder Workshop (K-5)
SAM Labs (K-8)
Sphero BOLT
Hummingbird (4-12)
Raspberry Pi (6-12)
Makey Makey
Micro:bit
Learn More
Check session dates/descriptions and register.
For additional information: