Matthew Stem Named IU13 Executive Director Effective April 2022
January 13, 2022
IU13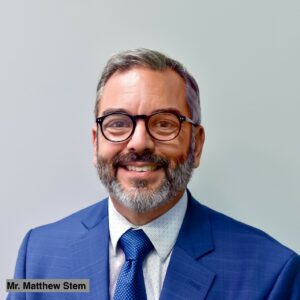 1/13/22, Lancaster, PA: Last night, the Lancaster-Lebanon Intermediate Unit 13 (IU13) Board of Directors appointed Mr. Matthew Stem (of Lancaster) as the new Executive Director, effective April 1, 2022. Stem joined IU13 in April as the Assistant Executive Director and has been working in tandem with Dr. Brian Barnhart, the current Executive Director who plans to retire in March. Prior to joining IU13, Stem served as the Deputy Secretary of Elementary and Secondary Education for the Pennsylvania Department of Education (PDE), a position he held since 2015.
"Matt is an exceptional leader – well-known and highly respected across the state," commented Barnhart. "Since joining IU13 last year, he has embraced the mission, vision, and culture of our work. He is well poised to serve as the next Executive Director of IU13."
Barnhart had initially planned to retire in June 2022, but he recently asked the IU13 Board to change his retirement date to March 2022. "It is time for me to retire," commented Barnhart. "While I have not made any official plans, I look forward to spending more quality time with my family and exploring new hobbies."
Over the past few months, the board and hiring committee conducted a thorough search for the next Executive Director. At the 1/12/22 board meeting, the hiring committee recommended Mr. Stem for the position, which resulted in an official vote by the board. The board unanimously approved his appointment.
"I am grateful for the opportunity to become part of the IU13 family," stated Stem. "IU13 is one of the leading education service agencies in the Commonwealth. Not only do they provide exceptional services, supports, and solutions to education, but they model a culture that encourages innovation, empathy, kindness, and the relentless pursuit of excellence. Dr. Barnhart and the current Leadership Team have worked strategically to build this amazing culture, and I am grateful to be appointed as the next Executive Director to continue the growth of our #WorkWorthDoing at IU13."
About Matthew Stem:
Stem is highly regarded in the education field with over 22 years of experience as a teacher, principal, district-level administrator, and assistant superintendent. Nineteen (19) of those years were spent with the School District of Lancaster and three at the Wyomissing Area School District (Berks County, PA). In 2015, he was named the Deputy Secretary of Elementary and Secondary Education for PDE (under the leadership of then Secretary of Education Pedro Rivera). While with the Department of Education, Stem was instrumental in the development of the Future Ready PA Index and the Every Student Succeeds Act Consolidated Plan, served as liaison to the State Board of Education Council of Basic Education, provided testimony before various House and Senate Committees on important educational issues, expanded the State System of Support within the Pennsylvania Association of Intermediate Units, and led the process for developing Computer Science Standards, as well as leading other statewide initiatives. He holds a bachelor's degree in elementary education from Millersville University and a master's degree in educational administration from Temple University in addition to a Pennsylvania Superintendent's Letter of Eligibility.
About Dr. Brian Barnhart
Dr. Barnhart has been an educator for over 34 years. His background includes service as a teacher, curriculum chairperson, building principal, and district assistant superintendent. He joined IU13 in 2006 as the Instructional Services Director, was named the Assistant Executive Director in 2008, and named Executive Director in 2013. Dr. Barnhart has a doctorate in Education Policy and Leadership from Temple University. He will officially retire in March 2022.
Lancaster-Lebanon Intermediate Unit 13 (IU13) is an education service agency dedicated to delivering services to schools and communities across the state and beyond. Visit iu13.org to learn more.
Media Contact:
Shannan Guthrie
717-606-1702 or shannan_guthrie@iu13.org