Supporting the Journey To Personalized Learning
What Is Personalized Learning?
"Tailoring learning for each student's strengths, needs and interests–including enabling student voice and choice in what, how, when and where they learn–to provide flexibility and supports to ensure mastery of the highest standards possible." – iNACOL (www.iNACOL.org)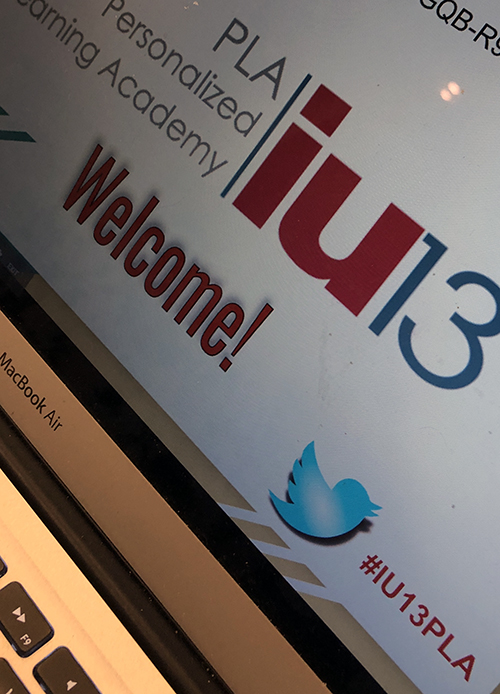 Can instruction in a classroom really be tailored to meet the different needs, interests, and readiness of each child? Can one teacher manage all of that at once? Good questions! The answer is a resounding "yes." In fact, several local school districts have partnered with IU13 to make it happen through the IU13 Personalized Learning Academy (PLA).
Just like no two students are alike, neither are any two school districts. Each district has its own unique culture, environment, program, and expertise. Just like a student benefits from a skilled teacher, participating districts benefit from the guidance of the IU13 PLA team, an experienced, interdisciplinary team of educators. The IU13 PLA team values each district's individuality, and through the Personalized Learning Academy, the PLA team walks alongside districts on their journey toward developing a vision and action plan on how to best meet the needs of their students.
What does this journey toward Personalized Learning look like? Ken Zimmerman, Instructional Technology Specialist at IU13 and PLA team member, shares, "Personalized Learning is not something that occurs overnight, nor is there a specific model. It is truly a series of many steps along the great journey AND everyone is at different points within this journey. We have learned what many districts have in common on this journey is the starting point of implementing different forms of blended learning, such as: station rotation, flex, flipped, individual rotation, etc."
Kelly Galbraith, Supervisor of Literacy at IU13 and PLA team member, likens each district's journey to that of the ocean's chambered nautilus, a sea creature which grows through building new body chambers upon its existing ones. In fact, the nautilus is a symbol of the IU13 Personalized Learning Academy because it represents the ongoing journey to Personalized Learning.
Aligned with several national partners, the IU13 Personalized Learning Academy meets each district where they are and builds from there. In early sessions, administrators explore varied perspectives shared by national experts in the fall leadership series. District leaders begin by learning and determining what makes sense for their own district as they work through the action planning tool. With the guidance of the IU13 PLA team, district leaders craft their own action plan – and also receive the training and support needed as they begin implementation.
Throughout the process, as Galbraith continues, "We personalize the experience so that we are modeling what we ultimately want students to be doing. All districts are here to continue their growth proportionally, one segment at a time, in areas that are most meaningful for achieving their desired outcomes."
Each plan looks different, but ultimately they share a common critical goal – helping each student become an active, successful lifelong learner.
To learn more about the PLA program, visit www.iu13.org/PLA or contact Colette Cairns, Instructional Technology Specialist, at colette_cairns@iu13.org.