A Graduation Ceremony Like No Other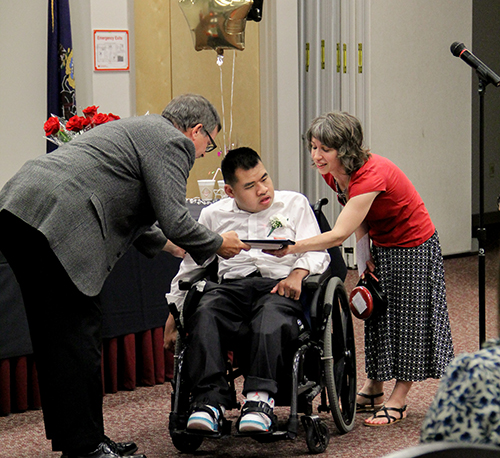 On Tuesday, May 29, 2018, IU13 held a graduation ceremony like no other. As with other graduation ceremonies, this one was filled with memories, inspiration, and well wishes, but it's the power of the student and staff stories that make this ceremony extra special.
This graduation ceremony was for 10 very special students served by a variety of IU13 programs including Lancaster and Lebanon County graduates from the Autistic Support, Life Skills Support, Multiple Disabilities, and Fairland programs. Within the programs students learn the core subjects, while also developing functional life, motor, and social skills. And while these students may face some extra obstacles, they are definitely "reaching for the stars."
During the graduation, a few students and parents spoke about their time with IU13 and the impact on their lives.
Philip, of Columbia, spoke about the activities that helped shape his time with the program, noting the laughter of friends and staff, field trips, long walks, and trips to the Amish store. He also reflected on jobs he held with companies such as Hershey Park and Elizabethtown College, while thanking the staff who helped him reach his goals.
Another student, Dominic, of Palmyra, used an iPad to speak about his 15 years with IU13. He commented on the help of teachers and therapists who taught him how to use an iPad to communicate, answer questions, and participate in activities.
One parent, Monica Hostetter, created a collage to honor Carolyn Freeman, a teacher who had passed away two years prior. Monica shared her thoughts and reflected on Carolyn's great impact on her daughter's life.
"This is why I do this work," noted Mary Beth Urban, Supervisor for Special Education Services. The speeches impact her every year and bring tears of joy to everyone in the audience. "It's a very emotional night for the teachers, students, and families," commented Urban, who noted that many of the students in these programs work with the same teachers year after year. "Watching your students reach milestones, mature, and set new goals over time creates a lifelong bond."
Also in the audience were various school district administrators who presented students with the "home" diploma and gave the family members a rose in honor of their tremendous support over the years.
After the speeches, well-wishes, and tears, students were given a memory box filled with cards and mementos that teachers had collected [about the student] over the years. "This graduation is like no other," stated Urban. "It's a celebration for the student, but also the family, teachers, and support systems that helped the student along the way."