Children Spread Kindness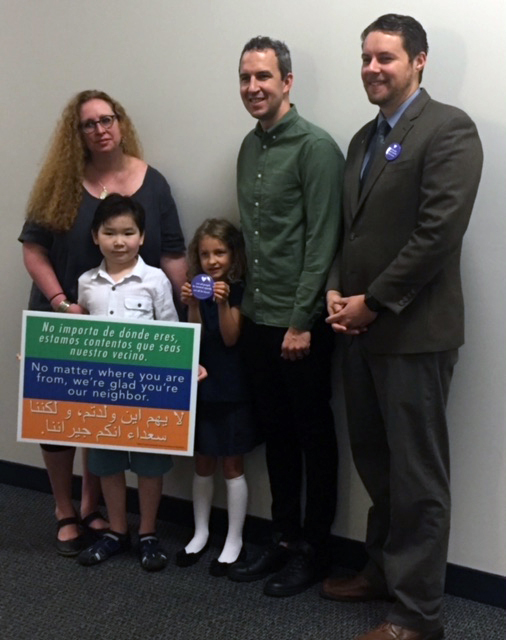 The passion of two children inspired acts of kindness, which resulted in raising funds for local refugees.
Nouraiz, a local 7-year-old boy, was concerned about people being kept out of the United States. He saw news about the signs "No matter where you're from, we're glad you're our neighbor," and wanted to help. That's when his family started selling the signs from their front porch, and rapidly, the colorful signs began appearing all around the state! Likewise, 7-year-old Clara was inspired by her journal, while one day coining the term "Let all people be treated equally. Let all be loved." She put this impactful phrase onto buttons, pins, and magnets, which she then sold to those at school and in various offices.
Nouraiz's concern inspired his parents, so they began "Nouraiz's Welcome Sign Project" in order to raise money for the IU13 Refugee Center at Reynolds Middle School. After a few months, they sold 2,660 signs, raising a total of $4,148, which was donated to the IU13 Refugee Center.
Clara's pins and magnets project brought in a grand total of $1,203.81, which was also donated to the Refugee Center and Community School at Reynolds. The funds raised will be used to support programming, like purchasing backpacks, welcome kits, and Cultural Navigation and Welcoming Schools Orientation.
In addition to the money raised, the signs have taught many about "the power that the word of mouth has," stated Nouraiz's mother, Jenni. These signs can be found anywhere from Pennsylvania, New Jersey, and New York, to Michigan, New Mexico, and Oregon.
IU13 and the Lancaster-Lebanon Education Foundation honored Nouraiz and Clara for their amazing contributions at the LLEF Board Meeting on Wednesday, May 30, 2018.
Source: https://lancasteronline.com/features/faith_values/welcoming-lawn-signs-in-lancaster-county-declare-we-re-glad/article_d420805e-c3a8-11e6-a9f1-4329c74301aa.html
Read more! LNP/LancasterOnline: