End-of-Year Celebration Snapshots
Springtime marks the beginning of a joyous season around IU13. Be it classroom festivities, the opportunity to go outside and feel the breeze, the culmination of a yearlong project, the celebration of student accomplishments, or the opportunity to reunite with former classmates, etc., these are just some of the many reasons why springtime is a special time at IU13. Here are a few "End-of-Year Celebration Snapshots" for you to enjoy.
English as a Second Language (ESL) Celebration
Each year, the Community Education program at IU13 serves approximately 300 students who are striving to improve their basic English language skills. This is done with the goal of helping them gain employment, support their families, become citizens, become involved in the community, and even pursue secondary education/training. Each spring, we hold an ESL Celebration honoring students who have completed the program. The ceremony brings together the beauty of multiple cultures, and like a quilt, represents how something is built better when built together.
Project SEARCH Student Showcases
Recently, seven students participating in IU13's Project SEARCH ended the year with a Student Showcase – an opportunity for students to celebrate and share their overall accomplishment from the year. Project SEARCH is a work immersion program for students with intellectual and developmental disabilities, with the ultimate goal of helping students gain employment upon graduating. Students maintain three different internships through Lancaster General Health over the course of nine weeks. Dressed to impress, these students showcase poster boards full of information about their work experience and internships. This exciting event allows students to share their pride and accomplishments with the community at large.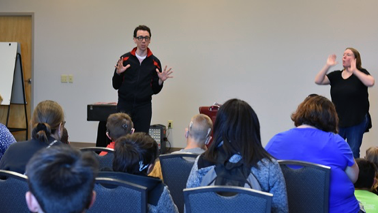 Deaf and Hard of Hearing Social
IU13 hosted the second Deaf/Hard of Hearing Social this spring, inviting students from various local school districts to come together for a day of fun activities with their peers. The event, which is largely planned by our older/high school students, is an opportunity for students with hearing aids and cochlear implants to come together, make new friends, and visit with former classmates. The day included a comedian, lunch, and relay races. It was a lot of fun!
Bowling Event and Student Reunion
It's always nice to have a reunion of smiling faces! Senior students from the Willow Valley Work Immersion program were joined by recent graduates of the program (from Classes of 2012-2017) for an end-of-year picnic and bowling party. The students were able to relax and celebrate all of their hard work during the past year. The graduates also spent time sharing advice and "lessons learned" about life after graduation. These lessons allowed students to connect with previous students and glean a little bit of wisdom along the way. It was a joyous event!
We hope you found joy in reading these end-of-year celebration snapshots. Have a warm and delightful summer!