Honoring Local STEM Champions – Virtually!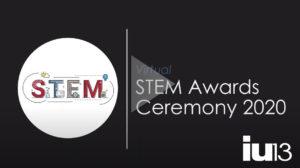 Awesome work – and honoring it! – certainly doesn't stop when schools are closed. With STEM education's focus on innovation, it's only fitting that the annual IU13 STEM Awards Banquet took on a new twist this year and went virtual.
"This ceremony is to celebrate their hard work and accomplishments, and the impact local STEM Champions are making on their students," shared Dr. Lauren Beal, IU13 STEM Supervisor. "Although we cannot meet face-to-face, we wanted to come up with an innovative way to still celebrate their successes."
As premiered on June 1, 2020, this very special ceremony even featured a special guest – 2020 Miss America Camille Schrier. Perhaps you recall her science experiment shared in the 2020 Miss America talent competition, during which she shared, "Science is a talent, and it's my mission to show kids that science is fun, relevant, and easy to understand." Schrier provided words of inspiration – via video – on the impact of STEM to kick off the festivities.
Thanks to the support of the Steinman Foundation, the following STEM Champions were honored for their excellence in STEM Education in Lancaster and Lebanon counties:
Elementary STEM Teacher of the Year: 
Amy Carter
Doe Run Elementary School (Manheim Central School District)
Secondary STEM Teacher of the Year: 
Joseph Steinmacher  
Garden Spot High School (Eastern Lancaster County School District)
STEM School of the Year: 
Palmyra Area School District Elementary Division
Please learn more about these amazing educators and teams – and be inspired by Miss America's remarks — by enjoying the 2020 IU13 Virtual STEM Awards Ceremony at www.iu13.org/STEMawards!