IU13 Is Poised to Support Schools with Online Learning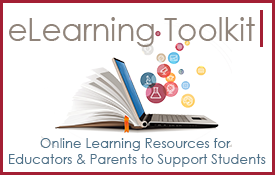 eLearning Toolkit Provides a Dynamic Library of Resources and Supports
Lancaster-Lebanon Intermediate Unit 13 (IU13), along with partnering agencies from across the state, has developed an eLearning Toolkit containing online learning resources for educators and parents to support students.
This collection of tools, resources, and strategies, which are available for free, is designed to assist educators, administrators, and parents as they support students while engaging in online learning, enrichment, or review.
"Our schools are seeking ways to serve all students to the best of their ability during these unprecedented times. We are here to assist schools with this goal by providing resources, tools, and even 'office hours' for training, " stated Dr. Brian Barnhart, Executive Director of IU13, the intermediate unit that serves school districts in Lancaster and Lebanon counties. "The eLearning Toolkit exists due to the collaborative effort of many via the Pennsylvania Association of Intermediate Units (PAIU) and the Pennsylvania Training and Technical Assistance Network (PaTTAN) in Harrisburg. We all want what is best for the students and staff."
Content is categorized for Parents, Educators/Administrators, Accessibility/Assistive Tech, Cyber Education, Educational Tools/Resources, English Learner Resources, Gifted Learner Resources, Instructional Content/Strategies, Paper/Pencil Resources, Special Education Resources, Teacher Support Guides, and more. The eLearning Toolkit will serve as a dynamic and growing library for teaching and learning in an online environment. Here is a sampling of the materials:
For Parents
Parent Resources – Resources to support parents in implementing eLearning initiatives: tutorials, guides, tips & tricks, and more.
For Educators and Administrators
Webinar Professional eLearning (for Educators)
[Updated 7/31/20] Are you looking for some live and asynchronous professional eLearning by our IU13 consultants/specialists?
Check out the webinars schedule listing our professional elearning webinars available for educators. Also, check out the recorded sessions.
Continue to revisit this schedule for newly added professional learning events.
In addition, a variety of supports tailored specifically for students of special needs are provided at no cost via the Bureau of Special Education, Pennsylvania Department of Education. The list is maintained by the Pennsylvania Training and Technical Assistance Network, a project of the Bureau of Special Education in Pennsylvania.