Staff Launch Virtual Storytime to Stay Connected with Students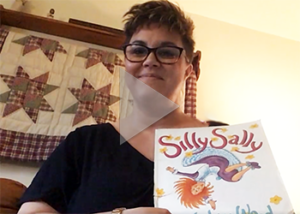 Connections must be maintained, especially for our smallest learners. In the Early Head Start/Head Start programs, family service workers and home visitors are introduced to children at a very young age. They become trusted adults who work with their parents as a team to teach them vital new skills.
For these young learners, storytime is a cherished part of the daily routine. During storytime, every child sits and listens to the staff while they enthusiastically read aloud, point out pictures, speak in silly voices, and maybe even act out certain scenes – all done to foster early language learning and a love for reading! Sadly, when COVID-19 arrived and we had to close classes for the rest of the year, the connection through storytime was paused. Since the start of the pandemic, Early Head Start/Head Start staff (in Lancaster and Lebanon counties) have been meeting with families on Zoom, continuing as much of their program as they can from afar. However, they needed something else, something different, to reconnect with their students. They needed storytime, again!
Fortunately, the program has a strong Facebook following. This made it the perfect platform to launch a Virtual Storytime, thus reconnecting with their students. Staff members from both counties have stepped up to read fun books that teach and entertain, in both English and Spanish. Some books teach important lessons about life, while other books are just for fun, with lyric rhymes, tongue twisters, and silly illustrations to engage listeners.
The most valuable part of the videos, however, is the people reading; they each have their own style – from slow and expressive to fast and energetic – and each video has a message especially for the little ones.
While the primary goal of the videos is to maintain a relationship with the families, they are also a good way to introduce the program and its staff to the community at large, which is important during recruitment season. On average, the posts reach over 1,200 people, with encouraging comments and lots of shares. A comment from one parent sums it up nicely, "Aw, I'm so glad I could hear you read a story again. xoxox."
Kristina Slick, Services Coordinator, Lebanon County Early Head Start/Head Start, praised the program, saying, "It has given staff an opportunity to connect more directly with families, and it also gives other staff members a chance to get to know their colleagues in a different light."
Videos have been uploaded on Saturday mornings since mid-April and will continue at least through June. Visit the Lebanon County Head Start Facebook Page and enjoy of few of the stories.