Tech Team to the Remote Rescue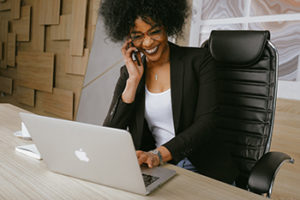 We all know the importance of our technology support teams. They come to the rescue when our computer/electronic devices won't work, an update is needed, a file goes missing, or we forget our password, etc. The tech support team is always there to work their magic.
And since the start of the COVID-19 pandemic and the "stay-at-home" for our offices and schools, we've relied heavily on technology to maintain our operations remotely. IU13 staff have access to a variety of programs to work from anywhere such as Microsoft Teams, Office365, OneDrive, Skype, Google Drive, and Zoom.
Since March, the IU13 Tech Team has:
Delivered 200 iPads and Chromebooks to families/students so that they can continue their studies online, and
Provided 1,600+ employees with the necessary tools to telework, so that they can continue their work remotely.
"While we are apart during these times, our work still continues," commented Tim Laubach, Director of Technology Services for IU13. "Our role as the Technology Support Team is two-fold. We must stay abreast of current technology so that IU13 is always prepared, and we must have the proper systems/teams in place to support the needs of students and staff."
In addition to the daily technology support, IU13 is in the process of enhancing the Wide Area Network – a computer network dedicated to connecting and supporting local school districts. Of the 29 sites that are part of the Wide Area Network, 19 have been completed. The remaining sites will be completed this summer.
While we don't know what lies ahead related to the COVID-19 pandemic and the impact it will have on the coming school year, one thing is for sure – technology will play an important role and the IU13 Technology Support Team will be there ready to serve.