Virtual Job Fair Engages Applicants from Across the US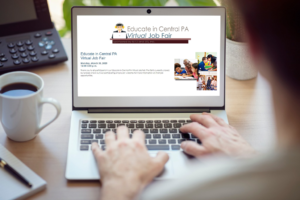 "Educate in Central PA!" That was the promotional tagline for the most recent countywide job fair – an event where public school districts in Lancaster and Lebanon counties work together to promote open positions and secure applicants. The event is held two times each year – in the fall focusing on support staff positions, and again in the spring focusing on professional/certificated positions.
This year, the planning committee decided to try something new by using an online platform (Easy Virtual Fair) to attract applicants from out of state, as well as college graduates looking for their initial teaching opportunity. Little did the team know when they planned the online event for late March that the COVID-19 outbreak would hit, making the online nature of this event so very timely!
The move to a virtual platform was initially fueled by declining participation at onsite job fairs. Believing onsite job fairs are quickly becoming obsolete, the HR team stepped forward onto the virtual platform, optimistic for a larger turnout and a broader, more diverse candidate pool. What began as a hopeful, new endeavor quickly turned into a necessity as COVID-19 restrictions imposed stay-at-home orders. In essence, the HR team was able to offer a critical service meeting an important need for our districts and professional educator candidates during a time of crisis.
The event was held on March 30, 2020, and nearly 300 people registered to attend (from the comfort of their own homes). Advertising was coordinated through social media, Google ads, and various colleges. The word was out – the "Educate in Central PA" virtual job fair was the place to be for anyone interested in working in our region as a teacher, social worker, specialist, therapist, school psychologist, etc. And the event was a success!
Within the first 15 minutes, 250 candidates joined the event, representing Florida, Texas, Massachusetts, New York, New Jersey, Virginia, Maryland, North Carolina, South Dakota, Arizona, Ohio, Tennessee, and Pennsylvania. Two hundred and ninety (290) candidates attended in all.
"I'm thankful for the opportunity to work for an organization that is responsive to the ever-changing needs of its customers, and committed to pursuing paths for growth, adaptation, and innovation in order to meet those needs," commented Karel Strait, IU13 Human Resources Coordinator, who led the planning team.
While the event was not planned in response to the COVID-19 pandemic, it was certainly timely and beneficial.  As job fairs across the country began shutting down in March, the "Educate in Central PA" Virtual Job Fair thrived and gave districts the opportunity to meet a variety of applicants from across the country.