Virtual Summer Enrichment Camps – Because Learning Never Stops!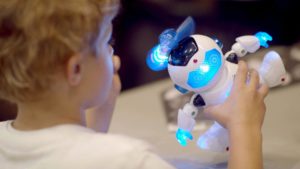 When the world is socially distanced and kids are home, how can parents broaden their children's horizons during summer break? For years, parents have looked to the IU13 Summer Enrichment Camps for fun learning opportunities, and this year is no exception. Let us introduce you to the IU13 Virtual Summer Enrichment Camp Series with interactive kits designed by certified educators to provide challenging, at-home fun for younger campers, and challenges to build photography skills and business acumen for teens.
Kicking off the series with middle school learners (Grades 5-8) – The Incredible Mini-Sphero! Robotics, Programming, Coding & More! IU13 designed a camp based on the Sphero, an unassuming little ball that can be coded to do lots of cool things. Campers will do a curbside pickup for materials, and learn the basics of block coding as they remotely guide their Sphero through mazes, over ramps, and around obstacles. The camp – which runs July 1, 2, 8, and 9th – will be led by Judy Craig, STEM Consultant at IU13 and a Sphero Lead Educator.
For teens (Grades 9-12) – Behind the Lens will start on July 7th and run four consecutive Tuesdays. This camp is an assignment-driven experience with photographer Cassandra Storm. It is designed for students with a desire to market their creative skills. They will learn from a photographer who cultivated her talent and built a successful business. Assignments will build on camper's own experience and abilities, culminating in sharing and constructive critiques. Students can participate with any level of camera, from their phones to DSLRs.
And, for the young learners (Grades 1-6) – Camp Invention Connect will be held July 13-17th. Each day of camp will involve a new kit with themed activities on a variety of topics, such as flight, the environment, design thinking, and sports. Just like the traditional Camp Invention, these challenges drive campers to invent solutions (and certified IU13 educators are available to help when needed). Campers will be able to connect with each other to share their solutions as well.
Registration deadline for all camps is June 22. For more information or to register for any of our camps, visit our website: iu13.org/SummerEnrichmentCamps.