Extended School Year Benefits Students
Nearly 700 Students Attend Program Annually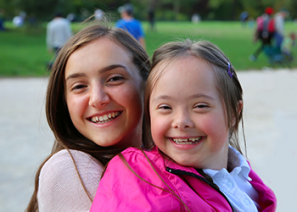 Education is personal. At IU13, we celebrate individuality and educate students with diverse needs. This is especially true of our Extended School Year (ESY) program offered during the summer months.
ESY is described as "special education and related services that are provided to students with disabilities beyond the 180-day school year." But why is this needed? In some cases, interruptions in the school schedule, such as summer break, may result in students with disabilities losing basic skills and taking a much longer time to regain those skills once school is back in session. To help avoid these situations, ESY services are provided during breaks to qualifying students.
The ESY program is operated each summer (June and July) in support of the public school districts in Lancaster and Lebanon counties. Qualifying for the program is determined by the student's Individualized Education Plan (IEP) team at the local district. Once a student has qualified, he/she is referred to IU13 for support during the summer months – staff are hired based on specific needs, transportation is secured, classrooms are prepared, a schedule is developed, and the summer session begins.
Services for ESY are individualized towards the student. The supports vary as do the types of staff needed. This may include positions such as: Special Education Teachers (Classroom and Home-based Instruction), Occupational Therapists, Physical Therapists, Speech Therapists, Health Care Assistants, Paraprofessionals, and more.
The demand is high and continues to grow for ESY Services! On average, nearly 700 students are referred to the ESY program each year, and IU13 hires nearly 350 staff members to meet these needs. Team members help children remain on target with their basic learning skills, all while having a positive impact on not only the child, but the family and the upcoming school year as well. The work of this team is highly valued and rewarding.
"Working as part of the ESY team is a great opportunity for people interested in special education or general education," stated Noel Johns, Program Director for Staffing and Employee Relations, who oversees recruitment efforts for the ESY program. "We have full-time and part-time positions available during the 5-week program, so applicants can gain some experience, support a child, and still have time to pursue other jobs or activities during the summer months."
Details about available positions can be viewed at: https://info.iu13.org/hr-esy-recruiting-2019. Training will be provided for all positions.