Summer Enrichment Camps Are in Full Gear
Let your child dream big and become a scientist, an inventor, a wilderness enthusiast, and much more!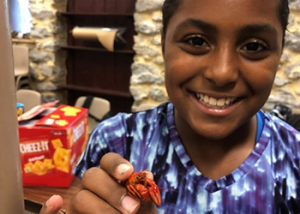 Does your child love a good challenge? Does he/she love to explore the outdoors, create new inventions, build robots, or perhaps play a strategic game of chess? Is your child looking for unique camps with a variety of activities? Then you need to check out the Summer Enrichment Camps offered at IU13.
These camps, which are tailored for students in general education or gifted/enrichment programs, help students explore challenges in enriching and exciting ways – promoting teamwork, flexibility, and social interaction between campers. Not to mention, they dive into hands-on learning experiences that parents and kids love! Your camper will come home with stories, ideas, and experiences to share!
Over the course of nine weeks (June 17th through August 8th), IU13 will offer nine different camps for students in Grades 1-12. The cost per camp, focus, and age/grade of students varies per camp. All camps are facilitated by IU13 staff from the Student Services program and some of the camps also involve partnering agencies such as: National Inventors Hall of Fame/Camp Invention, Snapology of Lancaster, Lancaster County Parks and Recreation, or the Pennsylvania College of Health Sciences.
New this year is the "Healthcare Career Exploration" designed for older students looking to explore future career options in medicine. Here, students will learn about dissections, ultrasounds, and even laparoscopic surgery.
"The Summer Enrichment Camps are amazing and continue to expand every year," commented Janice Estabrook, Gifted Education and Enrichment Coordinator for IU13. "These camps are different, unique, and designed to help students explore specialized areas of interest while having fun and making new friends."
For more information visit the Summer Enrichment Camps page.
Additionally: If you have an older/teenage student looking for a few volunteer hours to boost a college resume, check out these volunteer opportunities through the camp program. Details here.
For any inquiries, please contact enrichment@iu13.org or call IU13 Gifted Education and Enrichment Services at 717-606-1822.