Parent-Child Interaction Therapy (PCIT)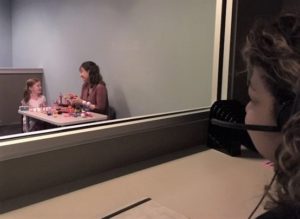 Is your child destructive? For example, do they break things on purpose?
Tired of getting phone calls from school about your child's behavior?
Feeling overwhelmed by your child's tantrums?
Love your child, but don't like his or her behavior?
PCIT might be for you! Research indicates that as a child's problem behaviors decrease, parenting skills improve, and the quality of a parent-child relationship is enhanced. PCIT can improve behavior in other settings, such as school, day care, and with siblings.
What is PCIT?
PCIT is an evidence-based treatment for young children ages 2-7 with behavioral problems.
PCIT is conducted through "coaching" sessions during which a therapist observes behavior between you and your child in a playroom. The therapist watches interactions through a one-way mirror, all while providing realtime coaching skills to you through a "bug-in-ear" device.
Payment Options Include:
Medical Assistance/PerformCare
Private Insurance
Self Pay
View/Download our Parent-Child Interaction Therapy (PCIT) brochure.
For more information, call Specialized Services at IU13, 717-606-1683.