Sea, Air & Land Challenge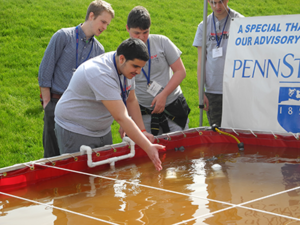 The Pennsylvania State University Electro Optics Center, in collaboration with the Office of Naval Research Program, has developed the Sea, Air & Land Challenge, a unique and effective way to manage high school students in the field of Science, Technology, Engineering, and Math. This competition brings together teams of 5-10 high school students to design and build robotic vehicles and payloads. Teams work to complete a high-level engineering challenge, with assistance from engineering mentors with industry experience. The program culminates in a "Challenge Day" event when students showcase their accomplishments and is designed to provide an exciting window into careers in STEM while developing their skill sets beyond standard classroom activities.
Students will have 12-16 weeks to design unmanned vehicles and intelligence, surveillance, and reconnaissance (ISR) payloads to compete in predefined sets of challenges. Each team is responsible for securing funding for their team and is paired with an industry mentor to guide them through the design and building process. The systems are then used to compete in challenges that mimic missions encountered by the military, national security agencies, and first responders. The competition is a partnership between IU12, IU13, and IU15.  
Save the Date:
For more information about this academic competition, please email IU13 Student Services at
enrichment@iu13.org
or call 717-606-1822. Thank you.