Specialized Services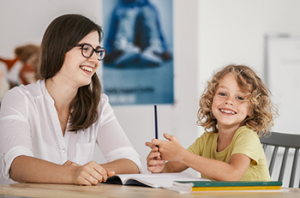 Specialized Services at IU13 provides a variety of services directly to children, adults, and/or families. Many services are covered by private insurance or Medical Assistance.
Autism Solutions
Autism Spectrum Disorder (ASD) diagnostic evaluations
Individual psychotherapy
Family therapy
Agency consultation
Professional Development Workshops

Learn more about Autism Solutions here.
Parent-Child Interaction Therapy (PCIT)
For children aged 2 ½ to 7 who present behavioral challenges
Live coaching via observations through a one-way mirror
Evidence-based interventions
Designated goals to determine success

Learn more about Parent-Child Interaction Therapy here.
Behavioral Consultations
Services provided by a Board Certified Behavior Analyst
Interventions based upon axioms of Applied Behavior Analysis (ABA)
Clear-cut goals and data-based decisions
Behavioral consultations to parents and service agencies

Learn more about Behavioral Consultations here.
Please call 717-606-1683 to learn more or to set up an appointment.