Lancaster-Lebanon Intermediate Unit 13 (IU13) is an education service agency dedicated to delivering irresistible services to schools and communities across the state and beyond.
Over the years, we have expanded our reach—using our expertise to provide products and services not only to Lancaster and Lebanon counties' 22 public school districts, but also to nonpublic schools, education agencies, parents, preschools, adult learners, businesses, municipalities, and more. Despite this growth, everything that we do supports our core mission of improving student learning.
We invite you to explore our website to discover how we might be able to help you—perhaps in ways you never imagined!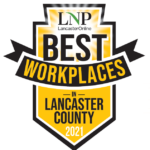 IU13 Named "Best Large Business"!
Learn more about our #WorkWorthDoing (and how to join our team!) here.