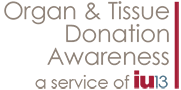 Organ & Tissue Donation Awareness (OTDA)
Every 16-year-old student who applies for a PA driver's license is asked to make a decision that could mean life or death to one of more than 7,000 Pennsylvanians who are currently on the transplant waiting list.
The critical shortage of organ and tissue donors is considered to be a national health crisis. The OTDA Project assists secondary students in pre-thinking the critical issues surrounding organ and tissue donation so that each teen can make an informed decision and communicate that decision to his or her family members.
The project goals are to:
Provide OTDA information and curricular support to Pennsylvania's school districts.
Assist secondary educators in using OTDA materials and resources.
Training Opportunities
Coming soon! Organ and Tissue Donation Awareness Basics Online Learning – The six chapters are one-hour Act 48-approved online sessions based on the OTDA Curriculum Toolkit. The chapters should be completed consecutively.
Advocacy
Donation Process
Science History of Donation, VCA Advancements
Cornea Tissue Donation
Living Donation/Pediatrics
Mental Health/Family Grief
Toolkit Resources
and more!
OTDA Implementation Site Mini-Grant
To see how educators have implemented the OTDA Mini-Grant, click on the links below:
OTDA Grant Proposal Examples
Are you a first-year teacher who is considering implementing OTDA into your classroom? Feel free to use this first-year grant proposal as a jumping-off point to your grant application. Modify it as needed to meet the needs of your content area.
OTDA Project Services and Curricular Materials
OTDA Curriculum Toolkit: The cornerstone of the OTDA curricular package is its extensive classroom toolkit. Aligned with the Pennsylvania Academic Standards, this interdisciplinary teaching tool is easy to use and completely reproducible for immediate use in the secondary education setting. The OTDA Project hosts an annual mini-grant competition for Pennsylvania secondary schools to encourage teachers to implement the OTDA Curriculum Toolkit (rev. 7/2019) in their classrooms. The kit contains teacher-developed lesson plans, resources, and real-life stories from across Pennsylvania.
First Year Guide to OTDA: In an effort to assist first-year OTDA Grant recipients, we have developed a First Year Guide to OTDA designed to provide resources, sample lessons, and activities, along with additional items that you may find useful in supplementing your OTDA activities.
OTDA on Schoology: In addition, OTDA Team Share is a group site on Schoology which brings ideas for OTDA activities, lesson plans, links, and more to present grantees, future grantees, and all those involved in our mission to educate! Please use this as not only a resource for ideas, but an opportunity to collaborate, plan activities with your local high schools, and save money on your budget ideas by combining with your neighboring schools.
The more you share, the less time you have to spend planning. Meaningful and creative activities are at your fingertips! We invite you to use this new resource to expand your activities and provide the very best experiences for your students!
How can you access OTDA Team Share on Schoology? Please contact Karen Herr at karen_herr@iu13.org to receive an access code.
For more OTDA information, please contact Karen Herr at 717-947-1616, email, or submit the contact form.