Guest Teacher/Substitute Training
Earn More – Daily Sub Incentive Program – Daily substitutes can earn up to an additional $500 per month for fulfilling assignments in IU13 classrooms!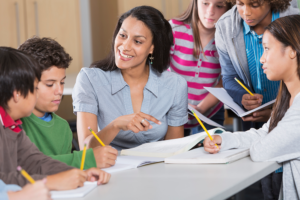 Upcoming Training Dates:
Lancaster-Lebanon IU13 offers Guest Teacher/Substitute Training on behalf of Lancaster and Lebanon County school districts. Individuals who have earned a bachelor's degree in any content area and wish to serve as a day-to-day substitute teacher may enroll in the program. The Pennsylvania Department of Education (PDE) allows school districts and intermediate units to apply for emergency certification for qualified candidates. Candidates who have completed the training may elect to substitute in school districts that participate in the IU13 Guest Teacher Program and/or may apply as a Guest Teacher with Substitute Teacher Service (STS).
The Guest Teacher Training is done in two parts: online training and one on-site training from 8:00 AM to 12:00 PM. A $30* non-refundable registration fee, completed application, online trainings, and references are required prior to the training. The online training will require about 8½ hours of viewing time, at your convenience, prior to the training.
To register, the following four items MUST be received in IU13 Human Resources Services by the registration deadline:
Training fee: $30* (payable after application approval)
Two (2) completed Reference Forms
Once the bulleted items above are received by IU13 Human Resources Services, applicants will be contacted via email with links to complete the online trainings and necessary paperwork to be completed prior to the on-site training session.
Foreign-Educated Applicants
A person educated in a foreign country may be eligible for substitute teaching provided the applicant meets the requirements set forth by the Pennsylvania Department of Education (PDE). Each foreign-educated applicant will be required to have his/her credentials evaluated. A list of organizations is provided on PDE's website.
---
For more information, please call 717-606-1849 or email humanresources@iu13.org.
*Guest Teachers who work a minimum of 10 assignments in IU13 Special Education classrooms may request a full refund of their $30 registration fee. Refund requests should be put in writing to hr@iu13.org. Refund request is only valid for trainings beginning August 19, 2016, and forward.