Software for Students & Staff
Students and Staff – Save Today!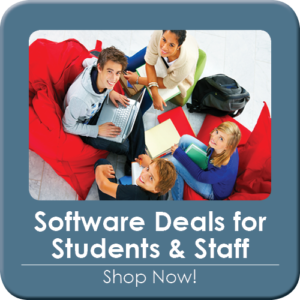 PA K-12 students and school staff can take advantage of great discounts on Microsoft and Adobe software for home use, too! Selected software programs, including Microsoft Office, Windows 10 and Adobe's Creative Suite collection, are available at deeply discounted pricing through a special partnership with Journey Education.
Step 1:
Have your "proof of academic status" ready. You will need to provide this proof of eligibility to complete your order. Samples of proof accepted include:
Dated Student ID Card
Dated Faculty ID Card
Dated, current class schedule
Letter from school on school letterhead
Recent faculty/staff payment stub (please black out salary information)
Step 2:
Browse and order software now. Shop now, or select the "Software Deals" button. Don't miss the great savings opportunities!
Step 3:
Questions? Please select a "Customer Service" topic at the bottom of the Journey Ed Student Shop home page, email softwaresales@iu13.org, or call 717-606-1810.