Residential Electricity & Natural Gas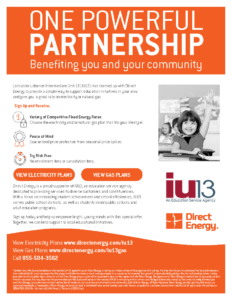 Lancaster-Lebanon Intermediate Unit 13 (IU13) has teamed up with Direct Energy to provide a simple way to support education initiatives in your area and give you a great rate on electricity or natural gas.
Support local education
Benefit from competitive pricing
Choose the plan/options to meet YOUR needs
Sign up today and help us empower bright, young minds with this special offer. Together, we can lend support to local educational initiatives.
Get Started!