Summer Enrichment Camps
IU13 offers challenge, learning, and fun through its summer enrichment camps. Each camp is set up as an enrichment opportunity that requires teamwork, flexibility, and social interaction on the part of campers. Challenging concepts are explored in fun, interactive ways. Parents LOVE that their children meet new friends, enjoy hands-on learning, and have a great time!

Get involved in the action…
Check out this video of clips from recent camps and see how students are challenged and have fun at IU13 Summer Enrichment Camps!
---
We are looking forward to more fun and learning in 2023. While camps are still in the planning stages, why not take a look below at the Summer Enrichment Camps we offered in 2022?
View/Download Summer 2023 Enrichment Camps date saver here (coming in early 2023).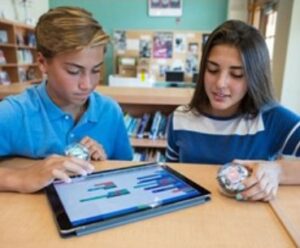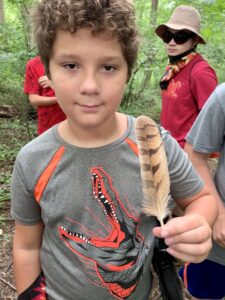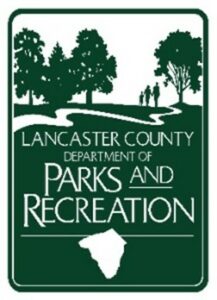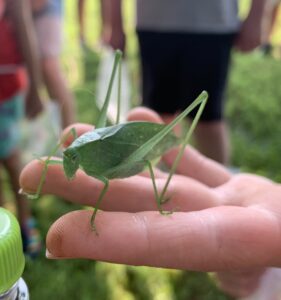 Survival in the Wilderness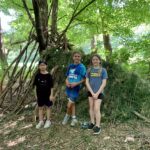 Who can attend: Students entering Grades 4 through 8 in Fall 2022
Limit: 20 campers
Three-Day Camp: Tuesday-Thursday, June 28-30, 2022
Time: 9:00 AM – 3:00 PM
Tuition: $175.00 per student
Location: Lancaster County Central Park, Pavilion #11, 733 Williamson Rd., Lancaster, PA
Registration Deadline: June 8, 2022
This camp has become an annual favorite for campers as they experience fresh air and exercise out in the woods. COVID-19 has taught us many important lessons in personal safety but learning about survival outdoors allows us to develop new skills while having a lot of fun. Join Naturalist Lisa Sanchez and IU13 staff at Lancaster County Park's Pavilion #11 and learn to survive in the wilds of Lancaster County. The important things in a survival situation are food, water, shelter, and fire; we will explore all of these. As part of a team, you will have the opportunity to build a shelter and a fire. You will also gather food and water from a variety of locations in the woods and learn if they would be safe to eat in a survival situation. You will also practice the vital skills of teamwork, problem-solving, and collaboration! To have a great day outside, please dress for the weather and bring a water bottle. Arrive ready to meet new people and work effectively to face challenges as they are presented.
NOTE: Dress for outdoor exploration, including a creek study. Water shoes or old sneakers will be required in the creek – no flip flops in the water, please. To ensure a safe experience for all, we will remain outdoors throughout the day. Registrants will receive an email with more information.
Learn more here:
Questions:
Dive into CS Zero Fundamentals

Who can attend: Students entering Grades 7 through 10 in Fall 2022
Limit: 15 campers
Four-Day Camp: July 6-9, 2022
Time & Tuition Options:
(Option A) 9:00 AM – 12:00 Noon – $99.00/camper for instruction only
(Option B*) 9:00 AM – 2:00 PM – $125.00/camper for instruction AND independent work time (with facilitator present for questions, as needed)
Location: The Conference and Training Center at IU13, Burle Business Park, 1020 New Holland Avenue, Lancaster, PA
Registration Deadline: July 1, 2022
The CMU CS Academy is a project from Carnegie Mellon University's School of Computer Science which developed a novel, world-class, interactive middle- and high-school computer science curriculum. IU13 has received requests from parents and students for more text coding opportunities, so we are excited to repeat this camp experience for 2022! Even campers from last summer are welcome to join us to continue their Python coding journey and have the chance to meet new friends.
Campers will receive coding guidance from Judy Trusz, Nonpublic Math Consultant, while connecting with other students who have similar interests and skills. Using CS0 (CS Zero) as an introduction to programming, campers will learn the basics of Python by drawing images, creating animations, and making games!  Campers can expect interactive problem solving with new friends through a graphics-based curriculum that gives everyone something of interest — from art to games to algorithms!
No prior experience in coding is necessary. IU13 will supply the laptops and mice to use each day.
A daily mid-morning 'brain break' with a snack will be provided with fun physical activities.
If a camper is enrolled in *Option B, please bring a packed lunch and drink each day (please refrain from food containing nuts or peanuts).
IU13 reserves the right to cancel this camp if there is inadequate enrollment. A full refund will be given.
Learn more here:
Questions:
Enrichment Camp Refund/Cancellation Policies
IU13 reserves the right to cancel any camp if there is inadequate enrollment. A full refund will be given.
In the event you cancel your child's registration, refunds are defined below:
Notice of cancellation must be submitted to IU13 in writing.
A full refund will be given if cancellation is received before the registration deadline.
A refund for cancellation after the registration deadline has passed will be at the discretion of IU13.
Please allow 4-6 weeks to receive your refund.