Student Enrichment Experience (SEE) Seminars for Gifted and Advanced Students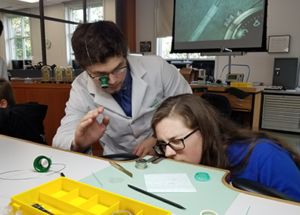 The Student Enrichment Experience (SEE) program provides innovative and thought-provoking seminars for advanced and gifted students throughout Lancaster and Lebanon counties. Various seminars throughout the school year are designed for students, Grades 4-12. Seminars are available to gifted and academically advanced students in participating school districts or nonpublic schools.
SEE Seminars offer a wide variety of topics and experiences not readily available in the regular classroom. When aligned with student academic strengths, they can supplement a gifted student's individualized education plan and can build upon the gifted services provided by the school district. Seminars enrich the curriculum while offering social and emotional support for students with intense interests and curiosity. Through highly engaging experiences designed to challenge them academically, students work with peers from across Lancaster and Lebanon counties. Connecting directly with experts who offer in-depth instruction, hands-on activities, and personal insight, students benefit from the unique "beyond the classroom" environment which also offers valuable career exploration and support in building vital interpersonal skills needed for career success. Documentation from these highly relevant experiences can be added to individual College and Career Readiness student portfolios.
Lisa Van Gemert (the Gifted Guru) shared her support of SEE Seminars through this article: That Fabulous Day with Those Fabulous Kids in Pennsylvania.
Participation
School districts in Lancaster and Lebanon counties may enroll as participating districts in the SEE Program prior to the start of each school year. Nonpublic elementary, middle, and high schools, as well as homeschool students, may also enroll in a program designed especially for them.
Seminar Information
The 2023-2024 SEE Seminar Schedules are listed below:
2023-24 Public SEE Seminar Schedules (Face-to-Face and Online)
2023-24 Nonpublic SEE Seminar Schedules (Face-to-Face and Online)
Recap of last year's SEE program:
Thank you to our growing list of SEE Seminar Organization and Individual Partnerships!
Student Services for Enrichment and Gifted Education
View a video about student services provided by IU13 offering enrichment opportunities for students and/or supporting gifted education.
For more information, please call 717-606-1939 or email Student Enrichment Experience (SEE).