Elementary STEM Bowls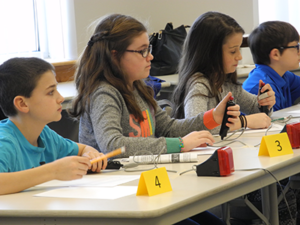 The annual Lancaster-Lebanon Elementary STEM Bowls are fast-paced quiz-bowl-style competitions, complete with sophisticated buzzers, designed to showcase and apply 3rd, 4th, and 5th grade students' knowledge of science, technology, engineering, and math (STEM). The event consists of two components:
Six 20-minute matches in which each team of four students competes against another team to answer a series of toss-up questions and bonus questions, and
Hands-on design and problem-solving activities presented by the IU13 Student Services Team.
Mini-STEM Bowl for Grade 3 
Elementary STEM Bowl for Grades 4-5
For more information about this academic competition, please email IU13 Student Services at enrichment@iu13.org or call 717-606-1822. Thank you.