Lancaster-Lebanon Chess Tournaments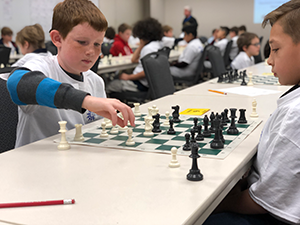 The Lancaster-Lebanon Chess Tournaments are designed to gather elementary and middle school students in a formal yet relaxed tournament setting. Participants meet students from varying grade levels and schools as they compete in a game they love. Building self-confidence, problem-solving skills, and strategic thinking come along with the fun. Skill levels will vary, but students should understand the game and be ready to play four rounds of chess with opponents from public and nonpublic schools. Teams register online through their schools. The Additional Information links below can be helpful in preparing for the tournament. NOTE: The Lancaster-Lebanon Chess Tournaments are not USCF rated.
Registration for Chess Tournaments will open in early 2022.
All events take place in The Conference and Training Center at IU13.
Additional Information
For more information, call 717-606-1822 or email enrichment@iu13.org.
Our Tournament Story …
Due to the academic value and appeal of chess to young people, IU13 worked with National Master Thomas Magar to create resources to share with elementary schools who were interested in developing or improving student chess clubs. IU13 hosted the first Lancaster-Lebanon Elementary Chess Tournament in 2011 in order to bring students together for diverse competition and learning. In response to great interest, a middle-school chess tournament was added in 2018. These student competitions have become annual events at IU13, thanks to the support of the Lancaster-Lebanon Education Foundation.