Local & Long Distance Telephone Service (Master Agreement)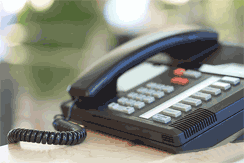 Telephone service can be complex and the monthly fees can take a never-ending toll on budgets. Unfortunately, it is also a service that schools, municipalities, and government agencies need. With E-rate funds ending for telephony services and the current IU13 consortium contract ending on June 30, 2019, IU13 decided to do a Request for Proposal (RFP) for local and long distance telephone service.
Telesystem, a nationwide voice, data, and security solutions provider with headquarters in PA and OH, was awarded a Master Agreement based on the RFP. Not only did they provide the best pricing, but they also demonstrated a wealth of experience and staffing capacity for customer support.
IU13 negotiated a Master Agreement, which allows districts to purchase their telephone services at very competitive pricing. By purchasing through this agreement, districts can lock in these savings until February 21, 2024, making it easier to budget and contain costs. Since the new agreement is not a consortium, members can join anytime during the year and enjoy the savings through the remaining contracted period. The agreement is flexible enough to provide savings to small and large schools, IUs, municipalities, and governmental agencies.
Agreement Highlights:
Telephone Service Master Agreement
Competitive pricing
IU13 bid compliant – IU13 #189-015
5-year rate lock: February 20, 2019, through February 21, 2024
Flexible service model for small & large schools
Join anytime during the contracted period
Next Steps:
If you would like to receive a quote or learn more about how IU13's agreement compares to your current provider, send an email to Jessica Diller at Jessica_diller@iu13.org with:
Your interest in a Hosted Telephone System or SIP Trunking
# SIP Trunks
# Standard DIDs
# e911 DIDs