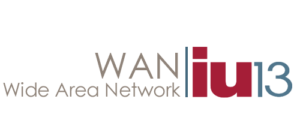 Wide Area Network (WAN) Services
About the WAN
The IU13 WAN Consortium, an organization comprised of more than 20 public school districts and several non-public, parochial, and charter schools, is dedicated to providing reliable high-speed Internet connectivity and network security services to K-12 schools in south-central Pennsylvania. The WAN increases value for all members by leveraging collective buying power and collaboration. Membership is available to any E-rate eligible school entity in Lancaster, Lebanon, and surrounding counties.
Member schools receive:
Internet connectivity
Firewall services
Engineering and technical support
Public IPv4 and IPv6 address allocations
E-rate filing for all WAN circuits
Network monitoring and utilization statistics
Additional value-added services
Member schools can receive Internet services ranging from 100 Mbps to 20 Gbps or more, as well as options for connectivity to multiple school buildings. Services are delivered using the most cost-effective technology available for the required bandwidth, including IU13-managed dark fiber and carrier Ethernet and wavelength services. Members that meet the necessary technical requirements can dual-home with another provider if they wish to do so.
Connectivity
The WAN provides network connectivity and Internet access to member schools with bandwidth ranging from 100 Mbps to 20 Gbps or more, according to the member's requirements. Services may be delivered over the WAN's private dark fiber network, third-party lit fiber services, or, in some cases, business-class DOCSIS or PON services. Internet service is unmetered and is limited only by last mile bandwidth and total WAN capacity.
Member schools may elect to connect multiple school buildings to the WAN for high speed building-to-building connectivity and multiple Internet egress points. The WAN can provide connectivity between school buildings at bandwidths ranging from 1 to 100 Gbps.
The WAN Consortium purchases Internet access capacity (transit, peering, and caching) from multiple providers to be shared among all WAN members. Last-mile network connectivity to school buildings is procured by the WAN Consortium on behalf of the member schools. The WAN Consortium cannot respond to district-issued RFPs or E-rate Form 470 filings.
Security
The WAN Consortium provides hosted firewall services using state-of-the-art next generation firewall equipment. Next generation firewall technology includes inline threat prevention, anti-virus, anti-spyware, intrusion detection, application-aware firewall, and scalable VPN connectivity.
WAN membership includes hosted firewall technical support and training from IU13 network engineers at no additional cost. Inline URL filtering is available for an additional fee.
Members that meet the necessary technical requirements may elect to use their own firewall instead of the WAN hosted firewall, but may not receive technical support for firewall-related issues.
To request more information or inquire about joining the IU13 WAN Consortium, please contact
wan@iu13.org
.