Deaf/Hard-of-Hearing Services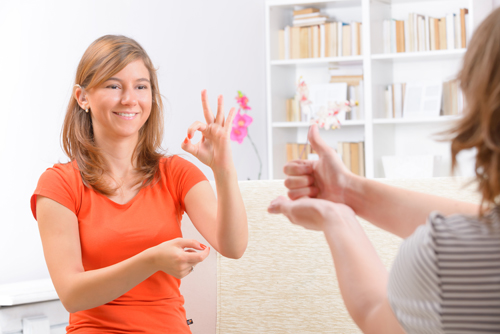 IU13 provides support to students who are deaf and hard-of-hearing, ages 3 to 21. Using a language-rich environment and a total communication approach, instructors focus on instruction in academic and functional areas, social/emotional skills, self-advocacy, and pre-vocational experiences.
Deaf/Hard of Hearing Support – Classes and Itinerant Services
The Deaf/Hard of Hearing Program (D/HH) at Lancaster-Lebanon Intermediate Unit 13 supports students with all levels of hearing loss, including deafness. A certified teacher of students who are D/HH can provide:
Assessment/reassessment of a student's eligibility and needs
Specially designed instruction in the student's primary language and mode of communication using current best practices
Effective research-based interventions and strategies
Effective practices in secondary transition and self-advocacy.
These services can be provided in a D/HH classroom setting or on an itinerant basis. Our goal is to consider the student's individual profile of strengths and needs, and to educate each student with hearing loss, to the greatest extent possible, in the least restrictive environment.
Supports are also provided to school personnel to promote student success in all school environments.
Support in the development of the student's Communication Plan
Consultation and training to implement communication strategies, as well as instructional and environmental accommodations.
Educational Audiology Service

IU13 provides a wide range of educational audiology services including:
Provision and/or maintenance of assistive devices for students who are deaf and hard-of-hearing.
Consultation with families and school personnel concerning needs resulting from hearing loss or auditory processing disorder.
Audiological screenings for children with special needs.
Rapid Hearing Screening
Pennsylvania requires students in grades K-3, 7, 11 to complete an annual hearing screening. Students who are unable to complete standard hearing screenings can be tested at school by the IU13 educational audiologist. Alternative test protocols such as Conditioned Play Audiometry, Tympanometry, and Otoacoustic Emissions are available for these students.
Sign Language Interpreting Service
Lancaster-Lebanon IU13 provides educational sign language interpreters throughout all 22 school districts.
IU13 educational interpreters meet all PA Code Chapter 14 regulations, possessing a minimum of 3.5 on the Educational Interpreter Performance Assessment and participate in 20 hours or more of annual training.
IU13 partners with independent contractors and local interpreting agencies in effort to provide interpreting services for both students and parents for situations such as extra-curricular activities, IEP meetings, parent-teacher conferences, graduation ceremonies, etc.
Deaf-Blind Resource Team
In collaboration with The Pennsylvania Deaf-Blind Project, IU13 has developed a Deaf-Blind Resource Team (DBRT) intended to establish a system of technical assistance resources to build capacity at the state, regional, and local levels for supporting LEAs, educators, and families of students who are deaf-blind. Learn more here.