English Classes (ESL) and Services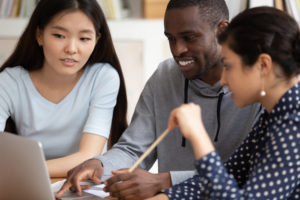 Are you interested in improving your English language skills?
Are you an English language learner looking for a new training and a better job?
Do you want to become a U.S. citizen?
If yes, please keep reading.
For more information or to register for classes, call 717-606-1708 or click below:
English Classes
Requirement: Must take a placement test.
Free* English as a Second Language (ESL) classes are available for adults who want to learn or improve their English language skills. Morning and evening classes with different levels are available.
Citizenship
Requirement: Must be a United States Permanent Resident (Green Card holder) and must take a placement test.
This free* class prepares adult immigrants from low-beginning through high-intermediate ESL levels to complete the naturalization process. Coursework includes developing students' language skills and civics knowledge by learning U.S. history and government. Additionally, IU13 partners with Church World Service to provide legal assistance including practicing for the naturalization interview and becoming familiar with Form N-400.
Cultural Navigation
Bilingual cultural navigators work with children and adults to connect them with essential services and opportunities that empower families. They also help adults to understand their children's school system, get valuable training, and find better jobs. For more information, contact rccsr@iu13.org, 717-947-1710, or visit our Refugee Center page. Most cultural navigation services are free.
Family Literacy
Requirement: Must be a parent of a child between ages birth through third grade and take a placement test.
The Family Literacy program offers parents free* High School Equivalency or English language classes. In addition, parents are supported in their role as their child's first and most important teacher. In Parent Education and Interactive Literacy Activities, parents learn more about their children's educational developmental needs in preschool and early elementary school years.
Integrated English Literacy and Civics Education
Requirement: Must take a placement test.
Free* classes prepare English language learners to be full participants in their communities as they develop the skills they need for a High School diploma or equivalent, and for their chosen career. Participants receive English as a Second Language (ESL) and civics instruction, and placement into training programs with the support of adult educators all along the way.
*IU13 Community Education classes and services provided directly by IU13 staff are free with limited exceptions. Additional services/tests provided by our partner providers may have costs. Please contact us with any questions.