Workforce Preparation Classes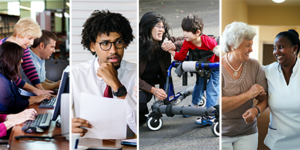 These short-term courses offer opportunities for students to gain skills for a specific career.
Classes are free for the majority of participants.
For more information or to register for classes, call 717-606-1708 or click on the button below.
Administrative Support Professional
Recommended: High school diploma/GED
Administrative skills are in high demand for jobs in virtually every industry. Learn how to transfer these skills into many occupations. Skills you will learn in this course include Microsoft Word, business phone etiquette, using Zoom, and effective interviewing. Customer service skills focus on verbal and non-verbal communication, listening to the customer, customer behavior, professionalism, and conflict resolution.

Basic Computer Skills – Currently Unavailable
This hands-on class is designed for those who may lack technology skills and want to have a better understanding of computer basics. Students will learn how to create, send, and manage emails; use Microsoft Word and Google Docs; navigate the Internet successfully and safely; set up accounts online, download, upload, and attach documents; and learn important computer-related vocabulary. This two-week course will help participants gain the skills they need to succeed in a computer-centered world.

Certified Nurse Assistant (CNA) – Currently Unavailable
Recommended: High School Diploma or Equivalent for Employment
This expanded 28-day CNA course helps students learn skills that will enable them to provide quality care for residents in nursing homes as well as patients at home and in hospitals. It is designed to provide additional support for those who may lack basic math or reading skills, second language learners, and those who prefer a slower pace.

Direct Care Provider
Requirement: Placement test
Students will learn basic healthcare skills, including communication, personal care, and First Aid/CPR, in preparation to be a direct service worker in a long-term care facility, home health setting, or a group home. Along with the healthcare training provided by professionals in the field, students will work on reading, writing, speaking, and listening skills, and learn how to be successful in the workplace. This 27-day class includes field trips to healthcare settings and a healthcare job fair.

Pre-Licensed Practical Nurse (LPN)
Requirement: High School diploma or High School Equivalency, and Placement Test
The Pre‐LPN course is designed for students who are interested in pursuing a career in practical nursing. The class curriculum is centered around building the English, math, reading, and science skills needed to pass the Test of Essential Academic Skills (TEAS) and be successful in nursing school while also developing learner confidence. The Lancaster CTC, the Lebanon CTC, and HACC all use the TEAS to assess applicants for their nursing programs. Students must surpass a minimum score in order to be admitted into these programs. Additionally, students are given an opportunity to practice and develop computer literacy and study skills on a weekly basis.

Teacher Assistant (Special Education)
Required: High School Diploma or Equivalent from US or native country
This course is designed for those interested in pursuing jobs as paraeducators and classroom assistants. Participants will learn skills to assist teachers in general daily classroom activities as well as how to care for students' physical and emotional health and safety.
The course focuses on special education guidelines, technology skills, and workplace skills for success and confidence as a teacher assistant. Guaranteed job interview with IU13 after the successful completion of this program.