Refugee Center at Reynolds Middle School
A Project of the Rotary Club of Lancaster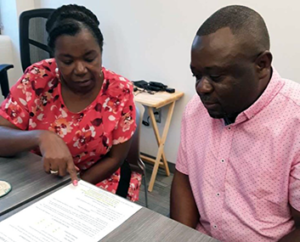 IU13 Community Education is proud to be the lead agency for a Refugee Center housed at Reynolds Middle School, School District of Lancaster (SDOL).
The Refugee Center (RC) focuses on aiding refugees and immigrants both within and outside the district to provide education, integration, wellness, and work leading to self-sufficiency.
---
---
The Refugee Center:
Khem Subedi,
BS, Business Administration
Community Education Coordinator
"As a former refugee, I have firsthand experience navigating the complexity of services in this country, which is why I am passionate about supporting New Americans. I want to empower refugees and immigrants to integrate into their communities and to be self-sufficient."
-Khem Subedi
Career Pathways for English Learners (CPEL):
English learners work with cultural navigators to identify the steps needed to reclaim their careers in the U.S. Tuition support is available for eligible participants.
CPEL is a federally and privately funded program that provides career guidance to English Learners (ELs) who are in pursuit of employment in Lancaster County. Guidance includes assisting ELs in gaining translation or evaluation of an international credential, certification in a new career, college credits, and more.
These FREE career pathways services are available for refugees, immigrants, asylees, or Haitian/Cuban entrants who have lived in the United States for five (5) or less years. To apply or to recommend a participant, call Beth Boll at 717-947-1652 or email at beth_boll@iu13.org.
Cultural Navigation for Schools
Bilingual Cultural Navigators work with children and adults to connect them with social, educational, and medical opportunities that empower families. Examples include Teaching High School Students about Refugees (a free resource for high school teachers), events & workshops, and a hygiene program. We have provided services at the following locations:
School District of Lancaster
Cocalico School District
Lancaster County CTC
Lebanon School District
Penn Manor School District
School navigation services are designed to help refugee and immigrant students successfully integrate into school life in the U.S. Cultural Navigators speak a variety of refugee-specific languages, and they work collaboratively with the family to assess current school and academic needs and goals. Cultural Navigators also advocate for equitable access to education in partnership with the refugee and immigrant families they serve, and offer professional development for school staff on effective ways to engage with refugee and immigrant families. Cultural Navigators engaged in school navigation help families to:
Understand school rules and procedures such as uniform code, attendance, and behavioral expectations.
Understand report cards, standardized assessments, and academic learning goals set by the school.
Connect students to existing supports within the school building, such as extended-day programming, school health clinics, PowerPacks, mental health services, and other enrichment opportunities such as field trips.
Help students and families navigate school behavioral issues by offering interpretation and connection to existing counseling services.
Provide interpretation at PTO meetings, parent-teacher conferences, or meetings between teachers/administrators and the family.
Communicate key school information to families in their home language.
Assist families with troubleshooting key technology challenges in at-home online learning.
Connect families with existing educational and social services in the community.
For more information on our services contact us at: rccsr@iu13.org or call us at 717-947-1710.
Interested in Volunteering?
We have a wide array of opportunities to get involved with our center either to increase staff capacity or to provide direct services! While some opportunities involve working specifically with Lancaster's refugee and immigrant population, others involve supporting Reynolds Middle School (RMS) students in general. For volunteer opportunities contact the Refugee Center and Community School at Reynolds at RCCSR@iu13.org.
The International Dinner
The International Dinner is a family engagement event hosted at Reynolds Middle School to celebrate the diversity of our students and families. The night is filled with enjoying cuisines from different cultures, a fashion show, music, and other fun activities. We are always seeking donations from local businesses to help supply prizes for our raffle and extra food for families. Volunteers for this event have helped in the planning process, picked up food, set up the event, and helped clean up after the event.
The Secret Angel Project
Each year, the Refugee Center and Community School seeks individuals to fill gift bags for Reynolds Middle School students who would not otherwise receive a gift during the holidays. Last year, RCCSR partnered with the Rotary Club of Lancaster, Millersville University, and Islamic Community Center of Lancaster (ICCL) to provide 141 gift bags to students.
The Women and Girls' Empowerment Banquet
The Women and Girls' Empowerment Banquet is an annual event to bring together refugee & immigrant women and their daughters to foster community, self-love, and career readiness. This event is filled with appreciation and strong women, and it inspires young girls, ready to take on their futures. Check back in 2021 for more programming, which will include a hair braiding and beauty workshop. If you or your organization would like to get involved in future programming, please contact the Refugee Center and Community School at Reynolds.
How Your Donations Impact the Community
Your donation will provide an opportunity for refugee/immigrant adults and students to continue their education in order to achieve their career goals in the United States. The hygiene program, welcoming schools orientation, women and girls empowerment banquet, and career pathways programs are examples of how your funds will be used to ensure refugees/immigrants have equitable access to health, social, and educational opportunities.
Your donations are collected, tracked and disseminated through the Lancaster-Lebanon Education Foundation, which serves as the charitable arm of the IU13. Click here to donate today!