Fast Facts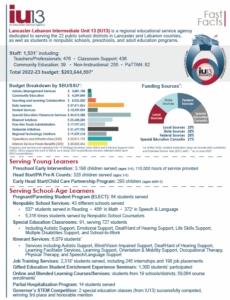 Discover more about the work of IU13 here! These "fast facts" provide an overview of IU facts and figures from the 2021-22 school year.
Explore some highlights below or download a copy to review or share.
---
IU13 Facilities, Staff, and Funding
Staff: 1,531` including:
Teachers/Professionals: 476 • Classroom Support: 436 • Community Education: 39 • Non-Instructional: 255 • PaTTAN: 82
Total 2020-21 Budget: $203,644,597<
Budget Breakdown by Strategic Business Unit (SBU)/Service Support Unit (SSU):<
Administrative & Management Services $3,881,108
Community Education $4,249,844
Teaching and Learning Collaborative $8,526,020
Early Learners $37,411,066
Student Services $10,339,054
Special Education Classroom Services $44,412,388
Itinerant Solutions $25,600,285
Pass-thru Funds Administration $17,997,312
Statewide Initiatives $31,697,902
Regional Technology Solutions $19,529,618
Operations and Infrastructure (SSU) $25,011,175
Internal Service Funds-Benefits (SSU) $20,465,466
(Programs and services are organized into 10 Strategic Business Units (SBU) and 2 Service Support Units (SSU). SSUs support the work of SBUs; as a result, SSU expenditures are also reflected within each SBU's expenditures.)
Funding Sources:<
Local Sources 23% | State Sources 28% | Federal Sources 28% | Special Education Consortia 21%
`As of May 2022, bulleted breakdown does not include daily substitutes & Extended School Year (ESY) staff | <as of June 2022
Serving Young Learners
Serving School-Age Learners
Serving Adult Learners
Students Served: 1,095

Employment, Job Retention, High School Equivalency (HSE) Attainment, and transition to post-secondary education

Family Literacy: 80 families supported
Citizenship Classes: Served 99 adults in 6 classes
Micro-Credentials: 49 enrolled and 42 completed programs including Administrative Support Professional, Direct Care Provider, and Teacher Assistant
Serving Educators & Administrators
Events: IU13 and PaTTAN continued to use online interactive platforms to support
events with 22,706 event attendees
Instructional Media Services (IMS): Served 6,000 educators and 90,000 students
Leveraging EbD-TEEMS to Scale STEM: 14 districts, 290+ teachers, 4,400+ students
PA Information Management System (PIMS) Consulting: Provided 350+ hours
of consulting support to assist school districts in meeting student-level data reporting
to the Pennsylvania Department of Education (PDE)
Technical Assistance through PaTTAN: 10,027 hours of assistance; 198 trainings,
and 33,038 people served
Serving School Districts
Personalized Learning Academy (PLA): 125 educators participated
High-Speed Internet: Increased bandwidth to 18 school districts, IU13, and PaTTAN by activating internet service through the IU13 WAN dark fiber network
IDEA: Administered $13.9M in pass-thru IDEA special education funds for local districts
Single Audit: "No findings" in single audit of $51.7M
Administrator Searches: Coordinated 4 searches for superintendents and school leaders
Extended School Year Program: 1,004 students referred to IU13 for ESY services (Summer 2021)
Regional COVID-19 Guidance: Coordinated partnership with Penn Medicine/Lancaster General Health to secure medical guidance for Lancaster County schools navigating the impact of Coronavirus on ongoing operations
Serving Community, Region, and State
Autism Solutions: 250 therapy hours, 118 diagnostic evaluation hours
Statewide Projects Team (for PDE): 762 LEAs supported in Data/PVAAS Professional Learning Services; 22 education research projects for PDE; 95 schools supported through Continuous Improvement program
Statewide Software Sales: $13M+ in sales
Tech Talk Live: Conference for tech administrators working in an educational setting
CAFCO Food Service Program: 63 participating districts in 11 counties (increase of +6)
Refugee Center: 709 clients (344 children and 365 adults) served, 44 languages spoken
Organ & Tissue Donation Awareness (OTDA): Administered statewide program for PDE, resulting in 8,000+ students served and $20K+ in grant funding for 16 schools
Nonpublic Schools' Grants: Supported 58* nonpublic schools in receiving $4M in emergency/safety-related grants
Internet Connectivity Partnership: Forged a partnership with The Steinman Foundation during the pandemic to fund internet connectivity for eligible Lancaster County families to support remote learning
Facts and figures compiled from 2021-2022 school year, unless otherwise indicated. For details contact communications@iu13.org. *This is a duplicate count. Some individuals receive multiple services. Published September 2022.