Insignia Library System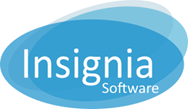 Lancaster-Lebanon Intermediate Unit 13 (IU13) is pleased to partner with Insignia Software to offer Insignia Library System to IU13 members at a discounted price. Insignia is a 100% web-based, hosted, cross-platform system that is compatible with any leading browser on any device. Open multiple features in the same browser window and access any feature in the Library Manager with just one click. Insignia offers you the most affordable and feature-rich library automation system on the market. Based on your budget and needs, Insignia Library System is provided in two versions: Standard Version and Enterprise Version.
Standard Version
Insignia Standard Version includes the following features:
Cataloging
Patron Management
Circulation
Reports
Online Catalog with Discovery Layer
e-Notifications
Authority Control
Smartphone App
Enterprise Version
Insignia Enterprise Version includes the following features in addition to our Standard Version features:
Textbook Manager
Asset Manager
Student Monitoring System
Room Booking
Event Scheduling
And more!
Included with All Insignia Products
The following services are offered for both the Enterprise Version and Standard Version of the Insignia System:
Hosting of the system on Microsoft Azure servers in the USA
Data conversion
Online training
Toll-free technical support
Book cover images
Access to Authority records from LoC
Access to bibliographic records from LoC
Lexile Reading Program Info
Integration with your Student Information System for daily upload
All updates
Access to the Insignia Knowledgebase
Ordering Information
All pricing inquiries should be emailed to softwaresales@iu13.org. There is a $7.50 processing fee for all orders.  Orders for the software must be received on a school purchase order or a copy of the order on school letterhead with a signature. All software purchased under this program is for school use only; programs may not be installed on personal computers.
Insignia requires a contact name, phone number, and email address on all purchase orders. Orders cannot be processed without this information.